happyone
-----------------------------------------------------------------------------------------
Ring
Nick and I visited family this weekend and had a few informal engagement parties. We got lots of hugs and congratulations.
On Friday, we went to this authentic German restaurant near his grandparents' lake house. The owner/main cook was this crazy German lady who is 75 years old and speaks her MIND. When she found out we were there celebrating me and Nick's engagement, she looked at me very seriously and told me, "You don't take no shit!". She also warned me that when men are in their 40s, they start wanting to "jump the fence" and see what else is out there. She said if I ever catch Nick checking out another woman's boobs, to "slap him in the face with a rolled up newspaper! Slap the shit out of him!". Needless to say, we had an *interesting* experience at this restaurant. At least the food was good!
Nick's friend, Chris, came down for the dinner as well, and sometimes I feel like when Chris is around, Nick forgets about me. When we initially entered the German restaurant, Nick didn't even sit down by me, he sat by Chris! This was supposed to be our engagement dinner celebration, and he sits by his best guy friend. Wtf? When a table near us learned that there was an engagement party happening, they actually thought it was Nick and Chris who were engaged! The waitress even asked, "Is there a reason you two aren't sitting beside each other?". So weird and embarrassing. Nick eventually moved and sat in between Chris and I, but he still mostly talked to Chris the entire dinner. I get it, I guess-Chris is his best friend and they really don't get to see each other much any more at work since they work in different departments, so they had a lot to catch up on and joke about. I'll admit, I probably wasn't as happy throughout this dinner as I should have been due to Nick being so enamored by Chris's presence. I hope Nick's family didn't notice I was off. I hate that I can get like that-just shut down and act so weird. His family took us out for a great engagement dinner, and there I am, being a jealous brat! What am I, 5? I need to get it together with the jealousy stuff. Nick and Chris do get quite involved when they're together, talking about work and repeating their inside jokes they've already said a million times, but that's what guys do. Like I said, Nick doesn't get to see Chris much.
Anyways, the next day, we grilled out at the lake house and talked wedding stuff. We are really going to try and make the wedding happen at the lake house. It's such a beautiful (and meaningful) location. It will be great! We had a delicious lunch and then I had to leave to meet my mom and her bff at a bridal shop. Yes, my mom already made an appointment for me to try on dresses! I humored her and went along with it just for fun. I actually did find a dress I liked and it wasn't outrageously priced. Even though I've lost a little bit of weight, the pictures I saw of myself made me realize that I've got a looong way to go. I'm still well over 200 lbs and look, well, FAT. The dress also didn't look as nice in the pictures as it did in person. Oh well, the search continues.
They say it takes 6 months to order a wedding dress (why, I don't know), and then you have to have a few months available for alterations. If I'm going to get married next April, then that means I have to order my dress sometime around the beginning of August. That means I only have about 5 months to lose whatever weight I'm going to lose. It took me about 2 months to lose 15 lbs, so I think the best I'm going to get is another 20 lbs down. That'll be great, but that'll still put me weighing in at 210 lbs at the time I order my dress. Maybe I'll just keep going and I'll just have to have the dress taken in, or I can order the dress one size down. I just don't want to look ugly, fat, and bloated on my wedding day. I guess I shouldn't have added cheese to my salad and had chips on the side of my lunch today. Sigh. It's so hard to have discipline with food! I'm also so lazy after work that I haven't even been taking my walks. I'll try to get it together. Of course, Nick loves me as is. I guess that's the most important thing.
Here are some pictures of me and Nick and the sweet ring he got me: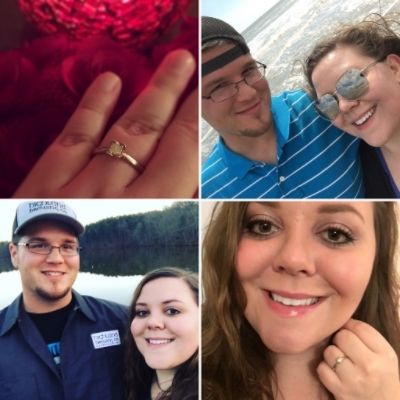 Here's another picture of the ring's setting, which is a heart. <3
11:16 a.m. - Tuesday, Mar. 15, 2016

-----------------------------------------------------------------------------------------